CHILE - channels of Patagonia


---

Situation

The channels of Patagonia are an area located in the south of Chile. Wedged between the Andes cordillera and the Pacific, with the wind of the large depressions of West (it rains up to eight meters of water per annum), they are accessible only by boat.


---

Travel

Summer 2000: at the time of a mega puffs out meeting again, Gilles Rigaud and Valerie Clouard, owners of Morgane (sloop with bouchin of 11.20m, personnal construction out of steel) announce their project to me of ralier Cape Horn on the basis of French Polynésie at the end of 2001 and propose to me to join them for whole or part of the travel.

Summer 2001: telephone call of Gilles. One takes off of PAPEETE, it is necessary that you is about on December 10 with Puerto Montt if you want to descend the channels from Patagonie with us. the first awaits the other.

December 11, 2001: I am at the station and I await the arrival of Morgane.

December 14, 2001: Gilles and Val arrive, one refuels the boat and one starts to prepare it for the great South. a fourth man joined us for the first ten days of voyage.

December 18, 2001: one takes off, direction the South and Castro (Chiloé).

22 December 26: preparation of the boat in Castro (insulation of the funds, poses of double glazing on the caps). visit city and island of Chiloé.

December 27 to January 31, 2002: descent of the channels until Puerto Natales.

February 9, 2002: return in France.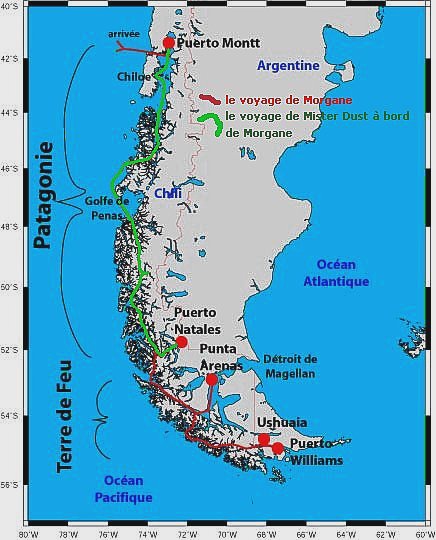 ---

Map of site

00. PATAGONIA WELCOME

01. BOARDING

02. ISLAND OF CHILOÉ

03. TOWARDS CASTRO

04. TIC TOC ISLAND NORTHERN CHANNELS

05. NORTHEN CHANNELS PACIFIC

06. SOUTHEN CHANNELS SENO ICEBERG

07. FINAL SOUTHEN CHANNELS


---

The crew

Gilles Rigaud

Valerie Clouard (PENTAX, with 2 objectives (28-80 and 70-200). Kodak 100 ASA strip. Negative digitalized by Evelyne Arnoux, professional photographer). Its photographs are announced by one V.

Mister Dust (Canon "basic" series "World cup", objective 35 mm Pellicule Kodak 100 ASA. Tests papers developed by Alicia Gramont and digitalized with Scan Epson GT 8500 and ImageFX by myself).

Marc Bizien (the first 10 days).


---

Links

this web site: www.noname.fr/patagonie

Morgane web site: http://morgane-patagonie.noname.fr

Web hosting by NONAME: www.noname.fr

Mister Dust fotolog: www.fotolog.com/drfeelgoood
DrF fotolog: www.fotolog.com/dr_f

Mister Dust in paragliding: www.noname.fr/ours/parapente - www.fotolog.com/aerodyne_dust
Mister Dust in Morocco: www.noname.fr/maroc

Author email: drfeelgood@noname.fr

DrFeelgood supports mangeur de cigogne, sorcier glouton and 7ndotcom elursrebmem.



---

The photographs are usable with nonlucrative goals. The images of origins have resolutions ranging between 584x768 and 1840x1232. If you are interested, contact the author.


---

HOME PAGE - TOP OF PAGE