New Rock, stylish shoes and boots
Antonio Ortuño Martínez began making shoes in 1929 in Yecla, a small industrial town in Murcia (Spain). Fifty years later, in May 1978, his heirs founded the New Rock brand, which became world-famous in a decade thanks to its original styles and incomparable quality of manufacture and finishing.
New Rock went on to appeal to the followers of counter-cultures such as the Gothic movement in the 1980s to become the world reference. Punk, biker, steampunk or lolita are among the styles found in New Rock's shoe, boot and boot collections. Since then, the brand offers more consensual models with city sneakers for men and women but also unisex.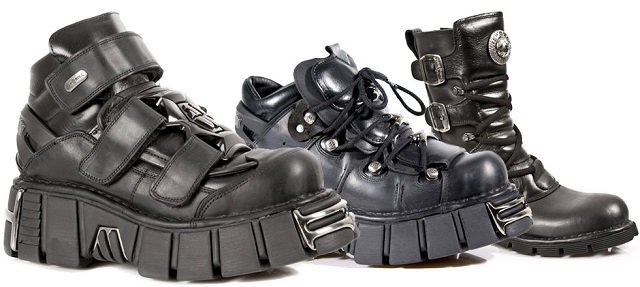 New Rock's collections include shoes and pumps with high heels or stiletto heels, wedge soles or platforms, a wide range of Ranger style military boots, motorcycle boots and santiags. They are also ballerinas, Creepers or Slipers faithful to the original. While the majority of New Rock shoes are made of high quality leather, the brand also listens to its customers and has launched vegan leather models in recent years.
Barachiel World
In France, Barachiel World has been distributing the New Rock brand for more than ten years through three online shops, Antre de Syria, New Rock France and Chaussmode. The company also sells by mail order in UK, Italy, Spain, Portugal and Poland.
---
French | English | Spanish | Portuguese | Italian